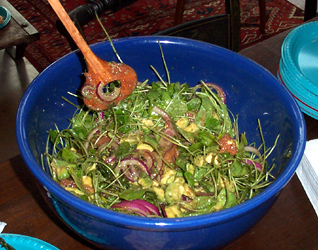 The Jamaica national football team, or The Reggae Boyz, is the national team of Jamaica and is controlled by the Jamaica Football Federation. You can substitute olive oil instead of margarine and lemon instead of vinegar - it's more health. Tip: use colorful noodles looking like butterflies - and you'll have beautiful summer holiday meal.


INGREDIENTS:

* 1 packet ELBOW MACARONI
* 1 medium sweet pepper
* 1 small onion
* 2 medium carrots
* 1 Tbs. SOFT MARGARINE
* 1 can GREEN PEAS
* 1 can WHOLE KERNEL CORN
* ¼ cup WHITE CANE VINEGAR
* ¼ tsp. salt
* ¼ tsp. BLACK PEPPER
* 250 grams cheese (1 1b cheese)
* 10 lettuce leaves
* 1 Tbs. COOKING OIL


Source: CaribbeanChoice

METHOD / DIRECTIONS:

1. Cook macaroni as directed on package and drain. Chop sweet pepper and onion and saute in hot margarine.
2. Cut carrots in strips, shred cheese and set aside.
3. Place macaroni in a bowl and add sauteed onion and sweet pepper, peas, whole kernel corn, carrots, vinegar, salt and pepper and mix well.
4. Add cheese and mix.